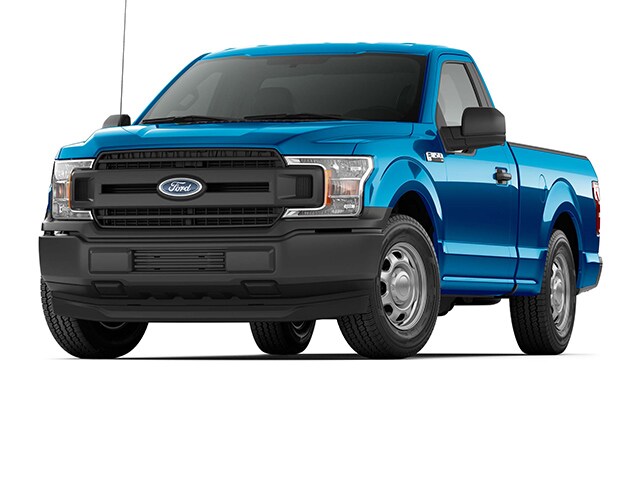 Trucks for Sale Pueblo, CO
Have you been shopping for an incredible truck without any success? Are you tired of going to random dealers with trucks for sale, Pueblo, CO? We don't want you to waste any more time or end up at a dealership where the staff isn't going to put your needs before their own. At Spradley Ford, we are here to offer you our expertise while you look for Ford trucks for sale near you. Our team's hope is that you don't have to be in the middle of salespeople who mainly want to make a profit when they tell you what car to buy. The sales staff at our Pueblo truck dealers will put your wants and needs instead of trying to sell you the most expensive model. The main mission of our staff is to take care of all your auto needs in one place, our dealership! We have team members that can help you with maintenance, financing, as well as shopping for your next truck.
Ford Trucks for Sale
We have the 2019 Ford F-150 SuperCrew Cab available because it is an excellent model! It has modern, top-notch features that all Colorado drivers love to show off! Some of the features that have become standard to have in a vehicle are Bluetooth connectivity and audio controls on the steering wheel. Obviously, there are more details and features to note, but the Ford manufacturer takes the extra time to add luxurious details to their Ford trucks for sale! The small details can make a big impact if you realize that you use them every day. For example, one of the impressive details is the premium audio speaker system. You can connect your cell phone via Bluetooth and listen to your favorite bands and artists without any static and white noise!
One of the other impressive things about the F-150 models that we offer is its performance abilities! This is a truck that is known for leading the class of pickup trucks, but we want you to know why it can be the best truck for you. The "heart" of this vehicle is the 5.0 Liter V8 engine with automatic transmission to give you control. The motor also powers the 4x2 drivetrain that offers excellent support through bad weather conditions. You can use all these together to tackle unpaved roads or off-road opportunities! These Ford trucks for sale from our inventory are sure to please and get the work done that you need. You will be able to relax with heavy-duty vehicles that can tow, haul, and move massive loads for your personal or work situations.
If you have more questions about the trucks for sale, Pueblo, CO, our Ford dealership staff members have the answers. The years of experience they have under their belt will prove helpful to you and your family. You will find no better place to go when you need to shop for a Ford than Spradley Ford! You can call us if you need to know details about this truck or the financing offers we currently have.