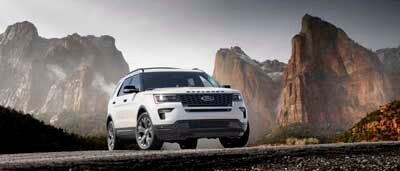 Ford Dealerships in Pueblo, Colorado
Does your family need help finding a vehicle that will prove to be long-lasting? Some people only care about a particular style or price of a car when they are shopping. But we offer professional assistance to make sure that you are choosing a vehicle that will be safe and reliable. As your used car lots Pueblo, CO, we have put together a team that is willing to sacrifice their needs to put yours first. You take priority at Spradley Ford, your Ford dealerships in Pueblo, Colorado.
Our dealership will be here to assist you throughout the process of purchasing another vehicle. It doesn't matter if you are not sure what you want to buy, or maybe you know the make and model that you want specifically. Our team will use their years of experience and knowledge to help you figure out the best automobile for your lifestyle. It's important to us that the families in our community have safe cars to drive, that's why we want to help you shop. You could be looking for a vehicle that will help you run daily errands like going to the grocery store, work, or dropping your kids off at school. Or you may be trying to find a truck to help you move heavy loads on a worksite. We know that everyone's needs are unique, and we will be here to listen to what those are for you. If you travel long distances, one of the most helpful features to have, is the efficient gas mileage.
Pueblo Used Cars for Sale
All of our models do extremely well with gas efficiency, but one that is particularly for families is the Ford Explorer. It's built like an SUV, but it has a third row like a minivan, which gives your passengers plenty of room to relax and spread out. This is a model that we recommend to anyone who is looking for space to grow into because it seats eight people. It has everything that a family could ask for when it comes to space for many passengers and their luggage. Not everyone has their eyes fixed on the newest model releases, and we can understand why. Sometimes it's the idea that if you buy Pueblo used cars for sale that are only a few years old, there may not be a difference in many of the details. As an example, we will use a 2019 Ford Explorer from our stock of used cars for sale Pueblo, CO. It still has incredible technology details like a button engine start, rearview camera, and voice-activated navigation system. However, the main worry that most of our customers have is how much these prestigious SUVs will cost them at our used car dealerships in Pueblo. The great news is that our Ford dealerships in Pueblo, Colorado, is here to help you finance as well! We have a Finance team to help you take our Pueblo used cars for sale home to make them your own. Our staff wouldn't leave you on your own to find out how to budget for a car. It can be a huge undertaking, and that's why Spradley Ford is here with excellent car sales.